Need Gift ideas? We have that covered

Hi there. John Kelly here.
Chippewa Valley Growers (CVG) is proud to be Western Wisconsin's choice for the best plants, trees, shrubs, and vegetables.
Whether you're an expert gardener or don't know where to start, let our family of experts—who genuinely, generously love to help others grow—find what you need, and help you build a garden that will thrive from spring through fall.

Some people call us a greenhouse.
Some people call us a nursery.
Some people call us a garden center.
But once they're here, they all call us special.
When you cross that threshold into Emerald City,
we think you will, too.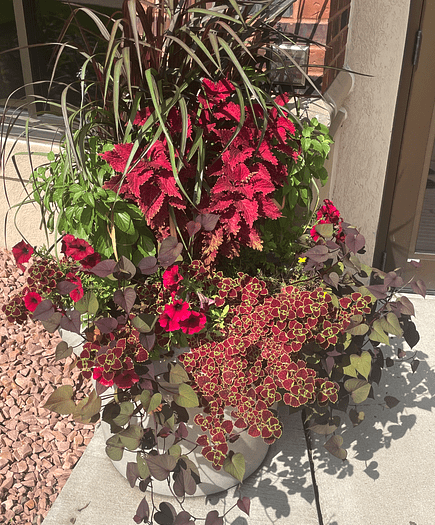 Custom Outdoor Floral Arrangement Installs
Are you looking to spruce up the outside of your home or business? Let Chippewa Valley Growers help! We offer custom installs of annuals to enhance the appearance of your building. If you favor flowers, we help you choose your ideal plants… and plant them for you, too!
How it Works:
We will meet with you at your facility and listen to your ideas.
You will receive a proposal to review within 1-2 weeks of our visit.
If you approve, you sign on the dotted line, and we will schedule the installation.
You pay us when the work is completed.
Simple, easy-peasy, abracadabra,
and your place look stunning!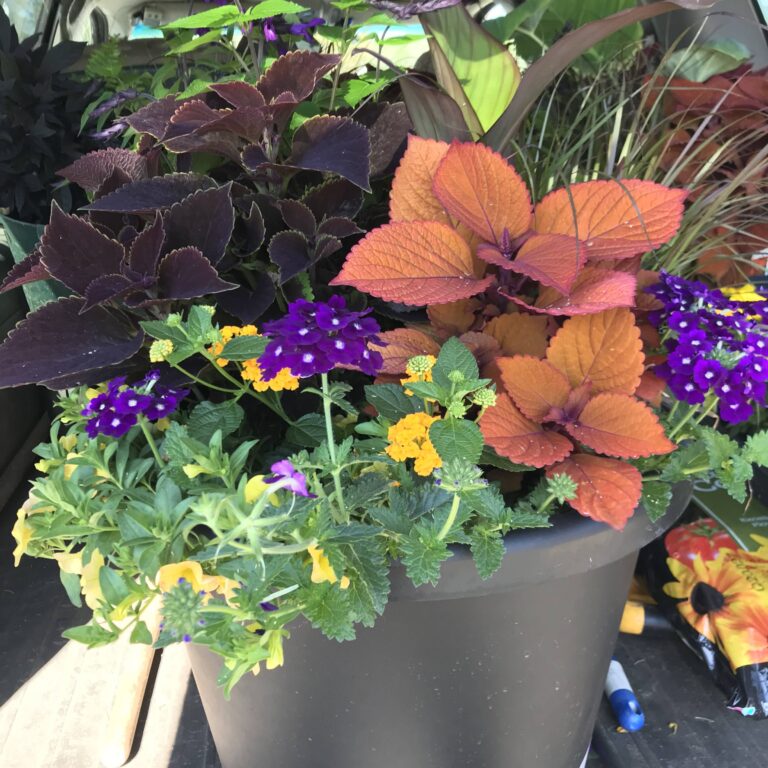 Schedule a one-on-one meeting for custom potted plants.
Email to schedule a one-on-one meeting.
Bring your favorite container(s) and your ideas to Chippewa Valley Growers. We'll discuss details like where your pot will be placed and what you like (and don't like) in your pots.
We sanitize and store your containers for the winter.
Come spring, we get an early start on planting in your containers. This provides us ample greenhouse time to develop strong, healthy, vibrant, and stunning plants.
Containers will be ready for pick-up by early May, so you can bring them home and show them off.
If you have any questions, drop us an email.
Join the CVG Produce Plus Program!
We're growing one heck of a garden. And we want YOU to reap the delicious and nutritious rewards.
Here's how it works:
You buy an advance share of our glorious garden's harvest. This covers the cost of seeds, labor, and other expenses. In return, you swing by the greenhouse every week to pick up a big bountiful basket of fresh seasonal produce.
You get:
Fresh veggies
Fruits bursting with phenomenal flavor
Plus, we'll throw in a few extra goodies throughout the season.
With Chippewa Valley Growers' Produce Plus, you'll know exactly where your fresh food is coming from. Grown with the same love, attention, and care that we give our flowers and plants.
Registration for the 2024 season is open now.
We're Hiring a Horticultural MASTER Grower
We are looking for someone unique – moreover, we are looking for someone that will treat this position like they own the Company.
 A Horticultural Master Grower is responsible for maintaining the established plant quality of the company while striving for improved methods and efficiencies and enhancing our customer's experience. 
Schedule a Tour for Your Group
If you'd like to schedule an event for your group, fill out the contact form below. We gladly provide tours and planting classes in March and April.
Please contact us for more information.
Private Class Experience
Want to give your clients or employees a unique experience? Looking for a new twist on Girls' Night? Or a fun, hands-on family activity? Chippewa Valley Growers offers custom, private classes!